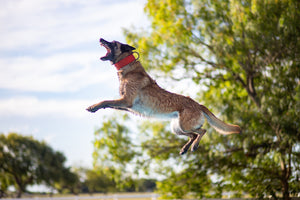 COVID-19 Updates
Stay up to date on all things relating to AMG production, orders, and shipments as they pertain to COVID-19 and USPS. 
Custom Embroidered Collars, Leashes, and Other Gear
Each product is custom made by hand.
They are built strong, durable, and perfectly customizable with a variety of styles from basic collars to sport or utility specific gear! 
Perfect for sporting, working, and companion dogs and pups.
Digital Proofs!
Unsure which color combos would look good together?
Which font would look better?
Will the text I want fit?
Whatever else you may be curious about, then message me! 
I can provide you with a digital proof of what you are trying to picture and answer any other questions you may have! 
Disclaimer: Metallics and glittery threads cannot be fully represented in their real life magical states but can be represented by the closest solid color. 
Multicolor and rainbow threads also cannot be represented in proof form. 
Possibilities and color combinations are endless!
Many available color options. 
Thread colors are seemingly unlimited as most requests can be accommodated. 
Alphanumerical, National, and Special Characters for embroidery. 

Click here for more information regarding:
Ordering Info,
Font Examples,
Thread colors,
and More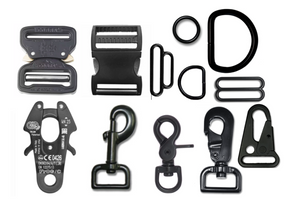 Hardware
Strong AUSTRIALPIN Cobra Buckles or Anodized Black Aluminum Side Release Buckles. 
KONG Frog Cable Snaps, Bolt Snaps, Trigger Snaps, or Heavy Dusty Spring Snaps.
Heavywire D rings and Lightwire D rings (see listing for which applies to that item/style).